UPCOMING NEWS & GAMES

SATURDAY, MARCH 25, 2017

1:00-3:00 – 10U – WINTER WORKOUTS, NORTH HAVEN


3:00-5:00 – 14U BLUE – WINTER WORKOUTS, NORTH HAVEN


5:00-7:00 – 14U GOLD – WINTER WORKOUTS, NORTH HAVEN

---

SATURDAY & SUNDAY, APRIL 22 & 23

10U IN USSSA SPRING MADNESS IN EAST HARTFORD, CT

14U GOLD IN USSSA SPRING MADNESS IN EAST HARTFORD, CT

---

SATURDAY & SUNDAY, APRIL 29 & 30

10U IN USSSA QUEEN OF DIAMONDS IN EAST HARTFORD, CT

14U GOLD IN WELCOME TO OUR NIGHTMARE IN WESTAMPTON, NJ

14U BLUE IN USSSA QUEEN OF DIAMONDS IN EAST HARTFORD, CT

ED HOBSON – DIRECTOR

65 ORCUTT DRIVE

GUILFORD, CT 06437

(203) 530-3964

hobson01@comcast.net
2017  ROSTER OPEN SPOTS:
16U POSITION PLAYER / 14U PITCHER, CATCHER OR POSITION PLAYER
INTERESTED PLAYERS, PLEASE CONTACT US
---
SHORELINE STINGER X NOW OPEN FOR REGISTRATION
OUR JULY 29 & 30, 2017 EVENT WILL BE CELEBRATING ITS 10th ANNIVERSARY
VISIT THE "2017 STINGER" LINK FOR DETAILS.  CONTACT US FOR ADDITIONAL INFORMATION
---
SUNDAY MORNING, FEB 5……….FASTPITCH NATION MIDNIGHT MADNESS……….
14U GOLD ATTACKS 16U FIELD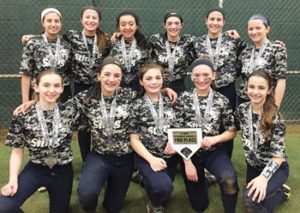 STING 14U GOLD

PLAYED UP IN THE 16U BRACKET IN
FASTPITCH NATIONS MIDNIGHT MADNESS

.  THE TEAM OF ALL 13-YEAR OLDS WON BOTH OF THEIR GAMES IN POOL PLAY, DEFEATING CENTRAL MASS THUNDER 9-2 AND THE 16U MIRAGE 5-2, EARNING A #1 TOURNAMENT SEED.  IN THE CHAMPIONSHIP ROUND, THEY BEAT THE RI THUNDER 5-2, AND LOST IN THE REMATCH WITH THE MIRAGE 7-4 IN THE CHAMPIONSHIP GAME FOR A RUNNERS-UP FINISH.  PICTURED ABOVE ARE: TOP ROW (LEFT TO RIGHT), KELLY PRITCHARD, SOPHIA ANASTASIO, KASSIDY PLANAS, KAYLA GOODRICH, TORI HEAPHY, KAYLA ROSARIO.  BOTTOM (LEFT TO RIGHT) ERICA PIERCEY, ABBY CODY, JADA MICONI, JILL BATICK, HANNA SENERCHIA.  (NOT PICTURED) GRACE HARTMANN.
---
14U GOLD CELEBRATES THE OFF-SEASON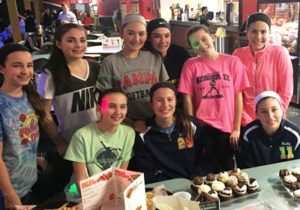 14U GOLD TEAM MEMBERS ENJOY DINNER AFTER THEIR OFF-SEASON BOWLING PARTY.  THE TEAM WILL PLAY IN A WINTER EVENT IN THE WEE HOURS OF THE MORNING ON SUNDAY, FEBRUARY 5.
---
MOHEGAN SUN ANNUAL SOFTBALL CONVENTION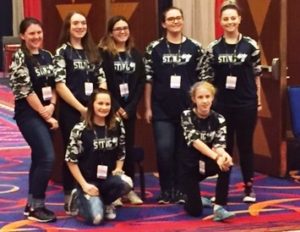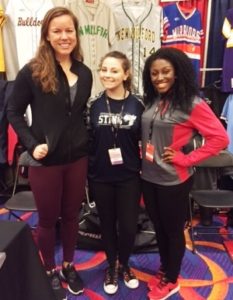 ON SATURDAY, JANUARY 21, STING14U WHITE TEAM MEMBERS ATTENDED THE ANNUAL WORLD SOFTBALL CONVENTION AT MOHEGAN SUN IN UNCASVILLE, CT.  PICTURED AT LEFT (FROM LEFT BACK) MAIREAD "RAIDER" AIKEN, VICTORIA GAGE, TESSA O'CONNOR, HANNAH CRONIN, EMILEE APUZZO.  (KNEELING) ANNA GULIANI, PAIGE PHANEUF.  PICTURED AT RIGHT (FROM LEFT) USA SOFTBALL GREAT KEILANI RICKETT, STING 14U PLAYER EMILEE APUZZO, USA SOFTBALL STAR AJ ANDREWS.
---
FOCUS ON STRENGTH & AGILITY……….
STING 14U WHITE EXECUTES WINTER PRACTICE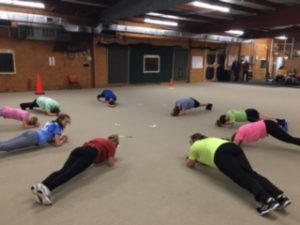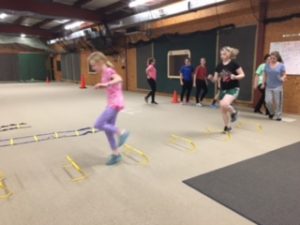 14U WHITE FOCUSES THEIR WINTER SESSIONS ON STRENGTH AND AGILITY.
---
STING 10U CELEBRATES THE HOLIDAYS
ON SATURDAY, DECEMBER 17,
STING 10U

CELEBRATES THE HOLIDAY SEASON WITH A "SECRET SANTA" DAY AT THEIR FINAL WINTER WORKOUT OF 2016.
---
BOOLA!  BOOLA!  BULLDOGS IN THE HOUSE

STING 14U BLUE

WAS MOST PLEASED TO ENTERTAIN THE YALE SOFTBALL TEAM AT THEIR DECEMBER 3 WORKOUT IN NORTH HAVEN.  THANKS TO THE ELI'S FOR LEAVING THE COMFORT OF THE TABLES DOWN AT MORY'S AND PROVIDING MENTOR-SHIP AND FRIENDSHIP TO OUR POOR LITTLE LAMBS.  REFERENCE YALE'S,

WHIFFENPOOF SONG.
STING FALL SOFTBALL – CHAMPIONS CROWNED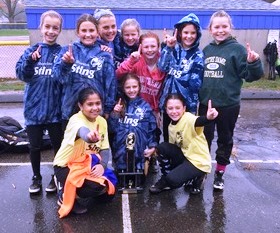 GRAMMAR SCHOOL DIVISION

: LIL' STING WINS IT ALL
PICTURED ABOVE, SOAKING WET YET HAPPY,

LIL' STING

CELEBRATES THEIR CHAMPIONSHIP SEASON.  SATURDAY'S PLAYOFFS WERE RAINED OUT AND LIL' STING WAS NAMED GRAMMAR SCHOOL CHAMPION BASED ON THEIR #1 SEED AND 8-1-1 REGULAR SEASON RECORD.  CONGRATULATIONS TO COACH PIGGOT, COACH HILLS AND ALL OF THE

LIL' STING

PLAYERS AND FAMILIES.
---
MIDDLE SCHOOL DIVISION
RACCOONS WIN AMERICAN LEAGUE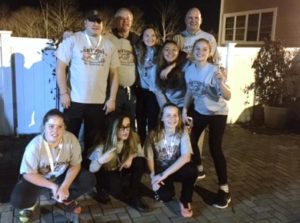 A RAINED OUT PLAYOFF SATURDAY LED TO A

RACCOONS

CHAMPIONSHIP, BY VIRTUE OF THEIR DOMINANT FIRST PLACE 12-0, REGULAR SEASON RECORD.  THE

RACCOONS

ARE A TEAM FROM

ADAMS

M.S., GUILFORD

, MIXED WITH PLAYERS FROM SIX OTHER TOWNS.  (PICTURED ABOVE: SOME OF THE RACCOONS AND THEIR COACHES AT THEIR POST-DINNER CELEBRATION)  THE

WILDCATS

FINISHED RUNNERS UP.
---
NORTH BRANFORD LITTLE LEAGUE WINS CT SECTION 1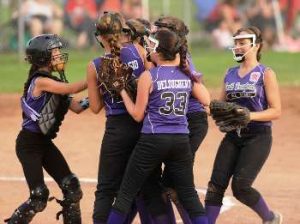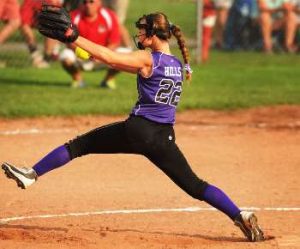 SHORELINE STING

IS PROUD TO REPORT THAT NORTH BRANFORD LITTLE LEAGUE DEFEATED MONROE FOR THE CT SECTION 1 TITLE.  TEN OF THE 12 PLAYERS REPRESENTING NORTH BRANFORD PLAY ON TWO DIFFERENT STING TEAMS AND COMPETED IN THE LITTLE LEAGUE TOURNAMENT DURING THEIR "TRAVEL" HIATUS.
---
STING 16U CRUSHES COMPETITION AT ASA SUMMER CRUSH IN DANBURY, CT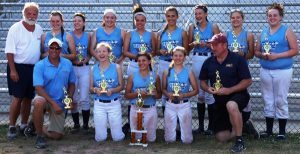 PICTURED ABOVE, BACK ROW STANDING: COACH ED HOBSON, KAT CECERI, JULIE VINCENT, ISABEL SICILIANO, HAELEE McGINTY, ALEX CHAMBERS, EMILY TORRE, SARA KELLY, MAKENNA WHITE.  KNEELING IN FRONT: COACH JUSTIN GLADWIN, LEXY CARUSO, AVA GLADWIN, NIKKI MARSH, COACH DAN MARSH.  (MISSING ARE LIZ RICHARD AND JACEY CLARKE, WHO ARE BOTH INJURED.)

STING 16U

TRAVELED TO DANBURY, CT ON SATURDAY, JUNE 25 FOR THE ASA SUMMER CRUSH AND DOMINATED THE COMPETITION WITH A 3-0 POOL RECORD AND A #1 SEED.  ON SUNDAY, JUNE 26, IN CHAMPIONSHIP PLAY,

STING

DEFEATED "THE INTENSITY" 10-0, BEAT THE "XTREME CHAOS" 15-4 IN THE SEMI-FINALS AND WON THE CHAMPIONSHIP GAME 8-0 VS.  "NEWTOWN THUNDER".
PITCHER ISABEL SICILIANO WAS 4-0 IN THE TOURNAMENT SURRENDERING ONLY ONE EARNED RUN.   ON OFFENSE, NIKKI MARSH WENT 13 FOR 19, SCORING NINE RUNS, AVA GLADWIN WAS 9 FOR 15, PLATING TEN RUNS.  SARA KELLY WAS 9 FOR 15, SCORING SIX TIMES.  SICILIANO FOLLOWED THAT UP WITH FIVE EXTRA BASE HITS INCLUDING TWO "MONSTER" HOME RUNS OVER THE LEFT FIELD FENCE AND NINE RBIS.  EMILY TORRE CARDED FOUR DOUBLES.  PITCHER KAT CECERI WAS 2-0, WINNING BOTH OF HER STARTS.
STING 16U

WILL NEXT PLAY IN THE QUEBEC REBELLES CHALLENGE IN MONTREAL, QC, CANADA.
 

JUNE 19……….LOVE IS IN THE AIR.  "THE BEE" PLAYS CUPID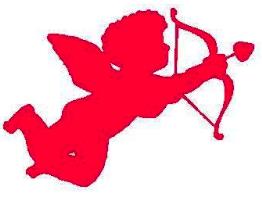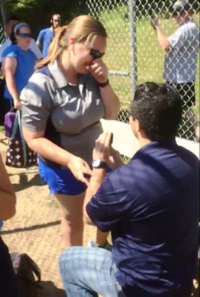 14U BLUE

ASSISTANT COACH, ANNA PIGGOTT GOT THE SURPRISE OF A LIFETIME AFTER SUNDAY PLAY AT "FATHER'S DAY SLUGFEST" IN NORWICH.  AFTER DISTRIBUTING "RING POPS" CANDY TO ALL OF THE PLAYERS, ANNA'S BOYFRIEND RICK WIESE, DROPPED TO ONE KNEE, AND PRESENTED ANNA WITH A REAL ONE.  EVERYONE AT SHORELINE STING WISHES THE COUPLE A LIFE OF JOY AND HAPPINESS.
JUNE 11 & 12
OLDER TEAMS BEGIN 2016, YOUNG ONES WRAPPING UP THEIR SEASONS ON RAINY SATURDAY……….SUCCESSFUL SUNDAY FOR ALL

YOUNG 12U BLUE RUNNERS-UP AT EAGLES KICKOFF IN WOLCOTT
AFTER BACK-TO-BACK-TO-BACK WINS ON SUNDAY, 12U BLUE DROPPED THEIR CHAMPIONSHIP GAME TO THE CT SEAHAWKS AT THE "WOLCOTT EAGLES SUMMER KICKOFF".  PICTURED ABOVE FROM LEFT:  COACH CHRIS HILLS, GIANNA DEPINO, EMA SIGNORE, TESSA WILLS, ERIN DONLAN, ELLA McGLYNN, BELLA HILLS, ALLIE PETONITO AND COACH JIM PETONITO. FRONT KNEELING FROM LEFT: COACH MIKE SIGNORE, LAUREN ACKERMAN, SOPHIE OUELLET, MIA DELOUGHERY AND MAISSA CASO
---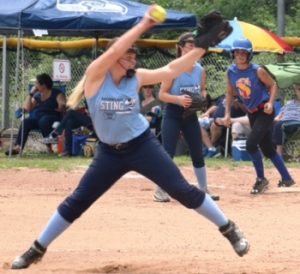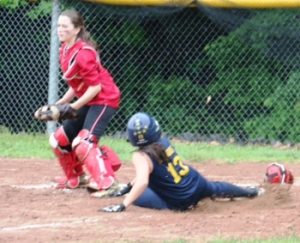 STING 12U BLUE
THIRD IN WOLCOTT
PICTURED ABOVE, ERIN DONLAN (LEFT) PITCHES A NO-HITTER, HELPING TO LEAD

12U BLUE

TO A SATURDAY #3 SEED IN THE CT TITANS MIKE ARBURR MEMORIAL SHOWDOWN IN WOLCOTT, CT.  PICTURED RIGHT, EMA SIGNORE SLIDES SAFELY HOME. 

12U BLUE

LOST ON SUNDAY TO THE CT SEAHAWKS, THE EVENTUAL TOURNAMENT CHAMPION.
---
CONTACT TEAM IMAGE FOR 2016 UNIFORM NEEDS AND STING LOGO GEAR.
TEAM IMAGE (203) 723-0286. teamimagellc@aol.com
---
ANNOUNCEMENTS
SATURDAY MORNING SPORTS SHOW 5:30 – 8:00 AM AND WEEKDAYS 5:30 – 9:00 ON THE "VINNY PENN PROJECT" WELI 960 AM –"THE COACH GEORGE DEMAIO" WILL FEATURE SOFTBALL NEWS AND GUESTS FROM AREA TEAMS. TUNE IN AND STAY IN TOUCH.