SHORELINE STINGER IX REGISTRATION
---
ADIRONDACKS A BLAST FOR 12U BLUE
PLAYING IN THEIR SECOND INDOOR WINTER TOURNAMENT, 12U BLUE BROUGHT HOME A VERY SUCCESSFUL FIFTH PLACE FINISH OUT OF 16 EXCELLENT TEAMS IN THE ADIRONDACK WINTER BLAST IN QUEENSBURY, NY ON SATURDAY AND SUNDAY, JANUARY 23 & 24.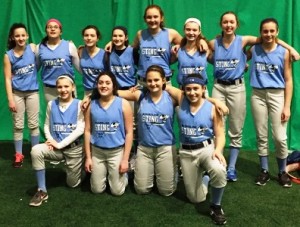 PICTURED AT TOP FROM LEFT: ALLIE PETONITO, MEGAN GAUDIOSO, MAISSA CASO, LAUREN ACKERMAN, ELLA MCGLYNN, BELLA HILLS, TESSA WILLS, GIANNA DEPINO.  BOTTOM FROM LEFT: SOPHIA OUELLET, MIA DELOUGHERY, ERIN DONLAN, EMA SIGNORE.
---
12U BLUE THIRD IN BLOOMFIELD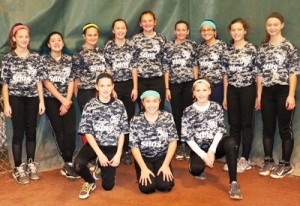 12U BLUE OPENED THEIR INAUGURAL  STING SEASON INDOORS AT FASTPITCH NATION, BLOOMFIELD, CT.  COACH HILLS' YOUNG 12S MANAGED A THIRD PLACE FINISH.  PICTURED ABOVE ARE: (STANDING FROM LEFT) ALLIE PETONITO, MIA DELOUGHERY, ERIN DONLAN, TESSA WILLS, ELLA MCGLYNN, GIANNA DEPINO, MEGAN GAUDIOSO, MAISSA CASO, BELLA HILLS.  (KNEELING IN FRONT FROM LEFT) LAUREN ACKERMAN, EMA SIGNORE,SOPHIA OUELLET.
---
STING 12U GOLD OPENS IN OCTOBER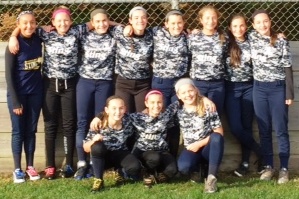 COACH RUSS SENERCHIA'S 2016 – 12U GOLD TEAM TOOK THE FIELD ON OCTOBER 10 & 11, 2015 AT THE MARC CONDO MEMORIAL TOURNAMENT HOSTED BY THE SEYMOUR TRADITION IN BEACON FALLS, CT.  PICTURED ABOVE ARE TOP (FROM LEFT) KASSIDY PLANAS, JILL BATTICK, TORI HEAPHY, KAYLA GOODRICH, KAYLA ROSARIO, SOPHIA ANASTASIO, JADA MICONI & ABBY CODY.  FRONT (FROM LEFT) ERICA PIERCY, HANNA SENERCHIA & GRACE HARTMANN.
---
STING CELEBRATES 25TH SEASON
IN 2016, SHORELINE STING WILL CELEBRATE ITS SILVER ANNIVERSARY.  DEVELOPED IN 1992 BY RAY AND GEORGETTE EZELL, STING REMAINS ONE OF THE MOST ELITE AND VERY BEST TRAVEL SOFTBALL PROGRAMS IN NEW ENGLAND.  STING IS PROUD TO PUT SEVEN VERY COMPETITIVE TEAMS ON THE FIELD IN 2016, INCLUDING THE REBIRTH OF THE 10U (SEE STORY ON THIS PAGE) AND 23U PROGRAMS.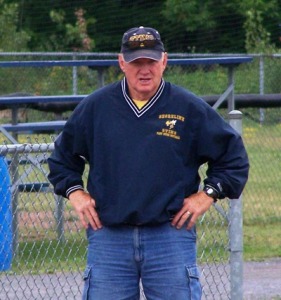 (PICTURED ABOVE) COACH EZELL CONTINUES TO COACH HIGH SCHOOL BALL IN FLORIDA AND DIRECTS THE VERY SUCCESSFUL STING FALL SOFTBALL LEAGUE.
THE 2016 SEASON WILL BEGIN IN THE LATE SPRING FOR OUR YOUNGER PLAYERS AND THE EARLY SUMMER FOR OUR OLDER, HIGH SCHOOL AGED PLAYERS.  PRIOR TO THE TOURNAMENT SEASON, ALL STING PLAYERS WILL ATTEND OUR STING MEETING IN EARLY NOVEMBER AND WINTER WORKOUTS AFTER THE FIRST OF THE YEAR.
A SPECIAL WELCOME GOES OUT TO OUR NEW MEMBERS, INCLUDING OUR 12U BLUE TEAM, MADE UP OF PLAYERS NEW TO OUR PROGRAM AND A COUPLE OF RETURNEES.  HEAD COACH CHRIS HILLS WILL LEAD THIS GROUP INTO THE SEASON.  THE HEAD COACHING TEAM WILL ALSO INCLUDE DAVE PIGGOTT AND VETERANS RUSS SENERCHIA, PETE RAMADA, KATIE HOBSON, ED HOBSON AND AUDREY TRABUCCHI, WHO WILL BE DIRECTING OUR 23U TEAM.
PICTURED ABOVE (FROM LEFT) ARE STING VETERANS MADISON EUCALITTO, PAIGE TRABUCCHI, LAURA MACLEOD AND OLIVIA BOUDREAU.  ALL HAVE LED THEIR STING TEAMS TO MANY CHAMPIONSHIPS THROUGH THE YEARS AND WILL BE RETURNING FOR A 23U SEASON.
WE WISH ALL A HAPPY AND SUCCESSFUL 2016 SEASON.  SOME SPOTS STILL AVAILABLE FOR 2016 SEASON ARE:
ANY INTERESTED 23U PLAYERS
IF YOU HAVE AN INTEREST IN PLAYING FOR SHORELINE STING IN 2016, PLEASE CONTACT US FOR AN EVALUATION OPPORTUNITY.
---
 HOSTS STING 14U GOLD & STING 18U WIN SHORELINE STINGER VIII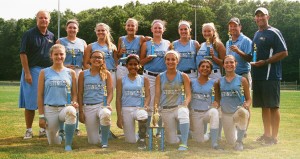 HOST

STING 14U GOLD

WON THE SHORELINE STINGER VIII TOURNAMENT ON SUNDAY, JULY 26 IN GUILFORD, CT.  14U GOLD DEFEATED SHORELINE STING BLUE, CT BOMBERS BLACK AND FINALLY RI INFERNO FOR THE CHAMPIONSHIP.  PITCHER ISABEL SICILIANO BROUGHT HOME THE VICTORIES IN THE SEMIFINALS AND THE FINALS.  PICTURED STANDING FROM LEFT, HEAD COACH ED HOBSON, ISABEL SICILIANO, CARLY MICHAUD, EMILY TORRE, TAYLOR LECKEY, CAROLINE SCHRECK, KAITLYNN GRIECO, COACHES PETE SCHRECK AND JUSTIN GLADWIN.  KNEELING FROM LEFT, SARA KELLY, SARA BARREIRA, ASHLEIGH ZAPANTA, SOPHIE SCHRECK AVA GLADWIN & LEAH KORNGUTH.
PICTURED BELOW, COACH JOE MORRELL'S STING 18U TEAM ENDED THEIR SEASON DEFEATING THE, ALWAYS FORMIDABLE, CT MIRAGE FOR THE 2015 SHORELINE STINGER VIII CHAMPIONSHIP.  STANDING FROM LEFT ARE COACH FRANK TRASACCO, LAURA MACLEOD, MADISON EUCALITTO, HAILEY TRASACCO, COACH PAUL O'CONNOR, PAIGE TRABUCCHI, MADDIE STURM, COACH AUDREY TRABUCCHI.  KNEELING FROM LEFT ARE JULIA ROSENBERG, JENNA CARRANO, KELLY O'CONNOR & OLIVIA BOUDREAU.  LAYING IN FRONT IS AMBER BONEWICZ.  (MISSING FROM THE PICTURE IS HEAD COACH JOE MORRELL.)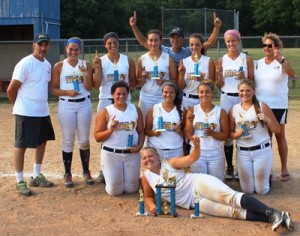 ---
CONTACT TEAM IMAGE FOR 2016 UNIFORM NEEDS AND STING LOGO GEAR.
TEAM IMAGE (203) 723-0286. teamimagellc@aol.com
ANNOUNCEMENTS
SATURDAY MORNING SPORTS SHOW 5:30 – 8:00 AM AND WEEKDAYS 5:30 – 9:00 ON THE "VINNY PENN PROJECT" WELI 960 AM –"THE COACH GEORGE DEMAIO" WILL FEATURE SOFTBALL NEWS AND GUESTS FROM AREA TEAMS. TUNE IN AND STAY IN TOUCH.