Upcoming News and Games

SATURDAY, JUNE 4 & SUNDAY, JUNE 5


CT TITANS MIKE ARBURR MEMORIAL SHOWDOWN IN WOLCOTT, CT


10U – POOL PLAY SATURDAY, JUNE 4


11:00 – VS CT TITANS AT WAKELEE SCHOOL

2:00 – VS EMPIRE STATE HUSKIES AT WAKELEE SCHOOL

3:30 – VS XTREME CHAOS AT WAKELEE SCHOOL

12U BLUE – POOL PLAY SATURDAY, JUNE 4


GAME SCHEDULE TBD

---

HURRICANE ON THE HILL IN MERIDEN, CT

12U GOLD – POOL PLAY SATURDAY, JUNE 4

9:00 – VS CT HORNETS ON THORPE AVE. #4

12:00 – VS VALLEY FUSION BLUE ON THORPE AVE. #5

3:00 – VS RI THUNDER ON THORPE AVE. #4

---

RI XTREME MAYFLY IN WEST GREENWICH, RI


14U BLUE – POOL PLAY SATURDAY, JUNE 4

(ALL GAMES AT WEST GREENWICH/EXETER LITTLE LEAGUE COMPLEX)

11:00 -VS CT BOMBERS BLACK FIELD "D"

3:30 – VS CT BOMBERS WHITE ON FIELD "D"

5:00 – VS SOUTHCOAST SCREAM ON FIELD "D"

---

ED HOBSON – DIRECTOR

65 ORCUTT DRIVE

GUILFORD, CT 06437

(203) 530-3964

hobson01@comcast.net
SUNDAY, MAY 8
12U TEAMS RAINED OUT IN EAST HARTFORD
RAIN-SOAKED, BUT OUTSTANDING SATURDAYS HIGHLIGHTED THE WEEKEND FOR BOTH 12U TEAMS IN THE TRADITIONAL, CT ELIMINATORS MOTHER'S DAY CLASSIC, BY USSSA, IN EAST HARTFORD, CT.  STING 12U GOLD POSTED ANOTHER PERFECT 3-0 SATURDAY, DEFEATING SEYMOUR TRADITION BLUE, LADY WILDCATS PREMIER AND THE EMPIRE STATE HUSKIES AND ONLY SURRENDERING SIX RUNS IN THE EFFORT.  UNFORTUNATELY, THE CT SEAHAWKS BLACK, ALSO 3-0, ONLY GAVE UP FIVE RUNS AND WILL BE NAMED THE CHAMPIONS, BY JUST ONE "RUN AGAINST", IN THE RAIN-SHORTENED EVENT.  STING 12U GOLD WILL BE RUNNERS UP IN THE 16 TEAM FIELD.
STING 12U BLUE HAD AN EXCELLENT 2-1 SATURDAY, LOSING ONLY TO THE EVENTUAL CHAMPIONS, CT SEAHAWKS BLACK.  12U BLUE BEAT THE CT TIDES AND THE CT HORNETS ON SATURDAY.
---
STING 10U OPENS UP AT USSSA


AT LEFT: LEFTY SOPHIA MEAD DELIVERS.  RIGHT: MIA RUBIROSA HANDLES A POP AT FIRST BASE.
---
---

12U GOLD'S KAYLA ROSARIO BEARS DOWN ON 12U BLUE'S TESSA WILLS AT SECOND BASE IN USSSA SPRING MADNESS SEMI-FINALS
STING 12U TEAMS MEET IN USSSA SEMIS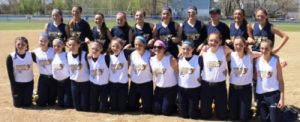 STING 12U GOLD AND STING 12U BLUE MET IN AN "ALL-STING" SEMI FINAL GAME AT THE USSSA SPRING MADNESS TOURNAMENT IN EAST HARTFORD, CT.  STING BLUE GOT TO THE SEMI-FINAL GAME VIA AN 11-2 WIN VS RI THUNDER GOLD, WITH BELLA HILLS AND EMA SIGNORE SHARING THE CIRCLE.  STING GOLD ARRIVED VIA A FIRST-ROUND BYE, AFTER A DYNAMIC 3-0 SATURDAY AND A #1 SEED.  12U GOLD PREVAILED IN THE GAME BEHIND THE STRONG RIGHT ARM OF TORI HEAPHY AND A THREE-RUN HOMER BY JILL BATICK.  12U GOLD DROPPED THE CHAMPIONSHIP GAME TO THE CHESHIRE WILDCATS AND FINISHED RUNNER-UP IN THE EVENT.  HEAPHY ADDED A HOME RUN IN THE GAME.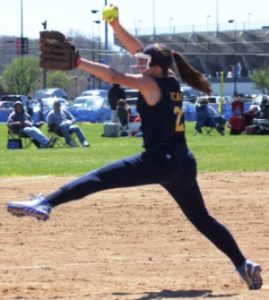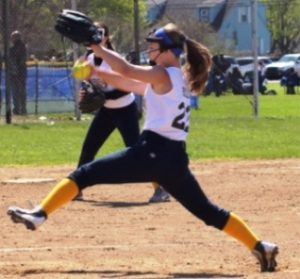 AT LEFT ABOVE: PITCHERS TORI HEAPHY (12U GOLD).  AT RIGHT: BELLA HILLS (12U BLUE)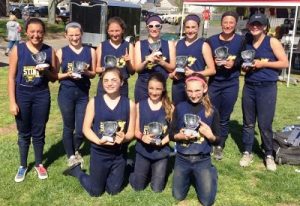 12U GOLD ACCEPTS THE RUNNERS UP AWARD AT SPRING MADNESS.
---

STING 10U AT UCONN
ON SUNDAY APRIL 17, COACH PIGGOTT'S 10U STING TEAM, PICTURED ABOVE WITH THEIR NEW COLLEGIATE FRIENDS, WAS PRIVILEGED TO BE INVITED TO THE UCONN VS EAST CAROLINA SOFTBALL GAME.  THE HUSKIES HAD THEIR WAY WITH THE EAST CAROLINA PIRATES 15 TO 7.  OUR 10U PLAYERS ENJOYED EVERY MINUTE OF THEIR EXPERIENCE MEETING AND ASSOCIATING WITH THESE ELITE DIVISION I SOFTBALL ATHLETES.  MANY THANKS TO UCONN ATHLETICS FOR ALLOWING THE GIRLS TO EXPERIENCE THIS VERY SPECIAL DAY.  GO HUSKIES!
SHORELINE STINGER IX NEWS
DATES ARE JULY 30 &31 ON CONNECTICUT'S BEAUTIFUL SHORELINE.  COACH SENERCHIA'S STING 12U GOLD TEAM HAS MADE A DECISION TO ENTER THE 14U DIVISION OF SHORELINE STINGER IX, CLOSING IT WITH 12 CONFIRMED AND PAID ENTRIES.  ONLY THE 12U DIVISION REMAINS OPEN.  12U ENTRIES CAN CONTACT US OR VISIT www.pony.org.
---
12U GOLD VISITS ADIRONDACKS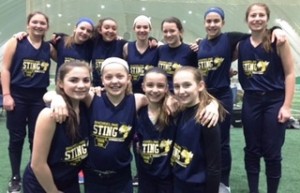 COACH SENERCHIA'S STING 12U GOLD TEAM VISITED THE ADIRONDACKS TO PLAY IN THE "WINTER BLAST" ON MARCH 18-20.  THE 12 GOLDS COMPLETED AN EXCELLENT 2-0-2 POOL ROUND AND ENDED UP FOURTH IN A VERY LARGE AND COMPETITIVE FIELD.  PICTURED ABOVE FROM UPPER LEFT: JILLIAN BATICK, ABBY CODY, KASSIDY PLANAS, KAYLA GOODRICH, KAYLA ROSARIO, TORI HEAPHY, SOPHIA ANASTASIO.  FROM LOWER LEFT: JADA MICONI, GRACE HARTMANN, HANNA SENERCHIA, ERICA PIERCY.
---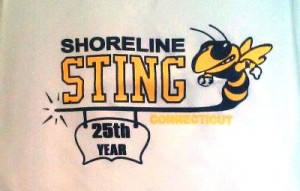 2016 LOGO CELEBRATES 25th YEAR
ALL NEW STING JERSEYS WILL SPORT THE "25TH YEAR" BANNER IN 2016.  WE CELEBRATE OUR HERITAGE, OUR ALUMNI AND EVERYTHING THAT'S RIGHT WITH THE GAME.
2016 UNIFORMS AND EQUIPMENT WILL BE DELIVERED TO EACH TEAM DURING THEIR WINTER WORKOUTS ACCORDING TO THE FOLLOWING SCHEDULE.  SECOND-HALF REGISTRATION PAYMENTS ARE ALSO DUE AT THAT TIME.
TUESDAY, MARCH 8, 2016 – 14U BLUE & 16U / FRIDAY, MARCH 11, 2016 – 14U GOLD &
SATURDAY, MARCH 12, 2016 – 10U, 12U BLUE & 12U GOLD.
---
ADIRONDACKS A BLAST FOR 12U BLUE
PLAYING IN THEIR SECOND INDOOR WINTER TOURNAMENT, 12U BLUE BROUGHT HOME A VERY SUCCESSFUL FIFTH PLACE FINISH OUT OF 16 EXCELLENT TEAMS IN THE ADIRONDACK WINTER BLAST IN QUEENSBURY, NY ON SATURDAY AND SUNDAY, JANUARY 23 & 24.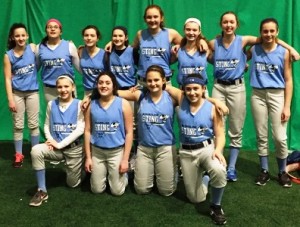 PICTURED AT TOP FROM LEFT: ALLIE PETONITO, MEGAN GAUDIOSO, MAISSA CASO, LAUREN ACKERMAN, ELLA MCGLYNN, BELLA HILLS, TESSA WILLS, GIANNA DEPINO.  BOTTOM FROM LEFT: SOPHIA OUELLET, MIA DELOUGHERY, ERIN DONLAN, EMA SIGNORE.
---
ANY INTERESTED 23U PLAYERS
IF YOU HAVE AN INTEREST IN PLAYING FOR SHORELINE STING IN 2016, PLEASE CONTACT US FOR AN EVALUATION OPPORTUNITY.
---
 CONTACT TEAM IMAGE FOR 2016 UNIFORM NEEDS AND STING LOGO GEAR.
TEAM IMAGE (203) 723-0286. teamimagellc@aol.com
ANNOUNCEMENTS
SATURDAY MORNING SPORTS SHOW 5:30 – 8:00 AM AND WEEKDAYS 5:30 – 9:00 ON THE "VINNY PENN PROJECT" WELI 960 AM –"THE COACH GEORGE DEMAIO" WILL FEATURE SOFTBALL NEWS AND GUESTS FROM AREA TEAMS. TUNE IN AND STAY IN TOUCH.
CONNECTICUT SHORELINE STING
ED HOBSON – DIRECTOR
65 ORCUTT DRIVE, GUILFORD, CT 06437
phone: (203) 530-3964 | email: hobson01@comcast.net