---
UPCOMING NEWS & GAMES

---

SATURDAY, SUNDAY, (MONDAY) JULY 1, 2, (3)


12U IN JUNGLE JAMBOREE IN WEST HARTFORD, CT

SATURDAY, JULY 1 POOL SCHEDULE

8:00 – VS CT MIRAGE ON STERLING FIELD #1

11:00 – VS RIDGEFIELD REBELS ON STERLING FIELD #4

12:30 – VS WOLCOTT EAGLES ON STERLING FIELD #4

14U GOLD FIRECRACKER ON THE FOURTH IN EAST HARTFORD, CT

SATURDAY, JULY 1 POOL SCHEDULE

8:30 – VS TEAM RAWLINGS WILDCATS AT PRATT & WHITNEY #4

10:00 – VS INFINITY SHOCK AT PRATT & WHITNEY #2

1:00 – VS LI REBELS AT PRATT & WHITNEY #3

SUNDAY, JULY 2 POOL SCHEDULE

10:00 – VS ULSTER FILLIES AT McAULIFFE PARK #3

2:30 – VS FROZEN ROPES LADY OUTLAWS GREEN AT PRATT & WHITNEY #5

4:00 – VS CT BOMBERS WHITE AT PRATT & WHITNEY #5

14U WHITE IN JUNGLE JAMBOREE IN WEST HARTFORD, CT

SATURDAY, JULY 1 POOL SCHEDULE

8:00 -VS CT XTREME ON STERLING FIELD #2

9:30 – VS CT TIGERS (13U) ON STERLING FIELD #2

12:30 – VS CT HURRICANES GOLD ON STERLING FIELD #1

16U IN INDEPENDENCE DAY FIRECRACKER IN HAGERSTOWN, MD

SATURDAY, JULY 1 POOL SCHEDULE

9:00 – VS LEHIGH VALLEY PATRIOT FLAMES (PA) AT HAGERSTOWN FAIRGROUNDS #1

10:50 – VS MD EXPRESS (MD) AT HAGERSTOWN FAIRGROUNDS #1

2:30 – VS MWS ECLIPSE (MD) AT HAGERSTOWN FAIRGROUNDS #1

SUNDAY, JULY 2 POOL SCHEDULE

9:00 – VS FRONT ROYAL FIRE BLUE (VA) AT HAGERSTOWN FAIRGROUNDS #1

10:50 – VS HEARTBREAKERS GOLD (MD) AT HAGERSTOWN FAIRGROUNDS #2

2:30 – VS SWAT (PA) AT HAGERSTOWN FAIRGROUNDS #3

TUESDAY, JULY 4

HAPPY INDEPENDENCE DAY

 (FRIDAY), SATURDAY, SUNDAY, JULY (7), 8, 9

12U IN SUMMER BALL EXTRAVAGANZA IN MERIDEN, CT

SATURDAY, JULY 8 – POOL SCHEDULE TBA

14U GOLD IN LIGHTNING FLASH IN PLANTSVILLE, CT

SATURDAY, JULY 8 – POOL SCHEDULE TBA

14U WHITE IN WOLCOTT EAGLES MID-SUMMER SLAM IN PLANTSVILLE, CT

SATURDAY, JULY 8 – POOL SCHEDULE TBA

16U IN TRADITION COLLEGE SHOWCASE IN YALESVILLE, CT

FRIDAY, JULY 7 – POOL SCHEDULE

10:00 – VS STEALTH ON PRAGEMANN FIELD #5 (YALESVILLE)

SATURDAY, JULY 8 – POOL SCHEDULE

12:30 – VS FIRECRACKER RED HOTS ON GAYLORD FIELD #1 (WALLINGFORD)

2:00 – VS SOUTH SCREAM RED ON GAYLORD FIELD #1 (WALLINGFORD)

ED HOBSON – DIRECTOR

65 ORCUTT DRIVE

GUILFORD, CT 06437

(203) 530-3964

hobson01@comcast.net
JUNE 24 & 25……….MORE SUNDAY SUCCESS FOR STING TEAMS……….
STING 14U BLUE TAKES CHAMPIONSHIP IN MERIDEN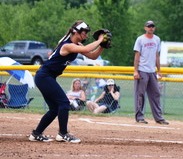 TOP LEFT: GIANNA CASTLEVETRO LAUNCHES ONE.  TOP RIGHT:  PITCHER BELLA HILLS LOADS UP.
THE SILVER CITY SLUGFEST 14U CHAMPIONS.
DETAILS TO FOLLOW……….
STING 14U GOLD FALLS SHORT IN 10 INNING IBT FINALS

DETAILS TO FOLLOW……….
UNDEFEATED SUNDAY ENDS IN RAIN-OUT FOR 16U
AFTER A DISAPPOINTING SATURDAY, STING 16U ENTERED SUNDAY'S CHAMPIONSHIP ROUND THE #9 SEED.  THEY PROCEEDED TO DISPATCH THE #8 SEED CAPE COD CHAOS 11-2 IN THE OPENER, BEHIND BELLA LLANO IN THE CIRCLE AND A 4-4 PERFORMANCE FROM GRACE KUCK.  THE #1 SEED, NEWTOWN THUNDER AWAITED AND STING 16U KNOCKED THEM OFF 7-3, WITH TAYLOR MYERS IN THE CIRCLE AND BRI BEVERLY GOING 4-4, WITH TWO DOUBLES.
A BRIEF HARD SHOWER DISRUPTED PLAY IN THE SEMI-FINALS AND THE HOST TEAM, DANBURY CRUSH (#2 SEED) INEXPLICABLY CANCELED THE REST OF THE DAY AND AWARDED THEMSELVES THE CHAMPIONSHIP TROPHY.
STING 14U WHITE GRABS SUNDAY WIN
DETAILS TO FOLLOW……….
---
JUNE 17 & 18……….TWO STING TEAMS PLACE……….
STING 16U EARNS FINALIST IN EAST HARTFORD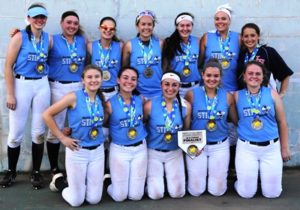 STING 16U WITH THEIR RUNNERS UP AWARDS.  (TOP FROM LEFT):  GRACE KUCK, ISABEL SICILIANO, JULIE VINCENT, BRI BEVERLY, CAITIE CASEY-LEONARD, JESS SMITH & ALYSSIA JONES.  (KNEELING FROM LEFT):   NIKKI MARSH, BELLA LLANO, LIZ RICHARD, TAYLOR MYERS & MEGHAN GILLIS.
STING 16U FINISHED SATURDAY 2-0-1 AND EARNED A NUMBER ONE SEED ON SATURDAY AT USSSA SUMMER SHOOTOUT IN EAST HARTFORD, CT, HIGHLIGHTED BY GRACE KUCK'S BASES LOADED TRIPLE AND JULIE VINCENT'S WINNING "WALK OFF" DOUBLE IN AN EXCITING 6-4 WIN VS CT RAIDERS IN SATURDAY'S FINALE.  ON SUNDAY, STING 16U BEAT VALLEY STORM (MA) IN THE QUARTERFINALS AND MASS INTENSITY IN THE SEMIFINALS.  THEY WERE DEFEATED 4-3 IN THE FINALS.  TAYLOR MYERS AND ISABEL SICILIANO PITCHED WITH EXCELLENCE THROUGHOUT THE WEEKEND.
STING 14U BLUE LAKE CANOBIE, NH RUNNERS UP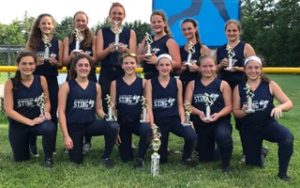 STING 14U BLUE WITH SECOND PLACE TROPHIES.  (STANDING FROM LEFT):  ALLIE PETONITO, TESSA WILLS, ELLA McGLYNN, GIANA CASTLEVETRO, BELLA HILLS, ERIN DONLAN.  (KNEELING FROM LEFT):  MAISSA CASO, MIA DELOUGHERY, SOPHIA OUELLET, LAUREN ACKERMAN, RYEN WOLCHESKI & EMA SIGNORE.
STING 14U BLUE TRAVELED TO LAKE CANOBIE, NH AND BROUGHT HOME A RUNNER UP FINISH.  14U BLUE CAME OUT OF A VERY STRONG 16 TEAM FIELD AS THE #6 SEED.  ON CHAMPIONSHIP SUNDAY, THEY WON THREE GAMES, INCLUDING VICTORIES AGAINST THE #3 SEED IN THE QUARTERFINALS AND THE #2 SEED IN THE SEMIFINALS.
---
JUNE 10 & 11……….BRIDESMAIDS NO MORE……….
14U GOLD WINS USSSA BRING ON THE HEAT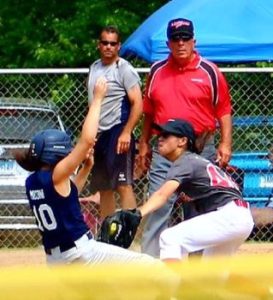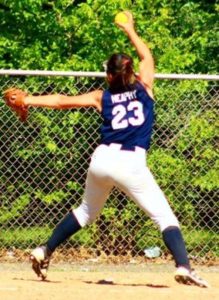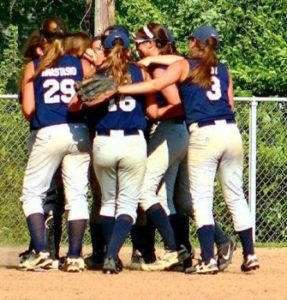 RIGHT: JADA MICONI SLIDES SAFELY INTO THIRD, WITH COACH SENERCHIA AND THE UMPIRE LOOKING ON.  MIDDLE:  CHAMPIONSHIP WINNING PITCHER TORI HEAPHY DELIVERS.  LEFT:  LET THE CELEBRATION BEGIN.
AFTER THREE CONSECUTIVE RUNNER-UP TOURNAMENT FINISHES,

STING 14U GOLD

BROKE THROUGH AND WON THE USSSA "BRING ON THE HEAT" EVENT IN EAST HARTFORD.  AFTER A 2-0-1 SATURDAY, STING 14U GOLD DEFEATED NWS ELITE IN THE QUARTERFINALS, LI EXPRESS 6-1 IN THE SEMIFINALS, BEHIND KELLY PRITCHARD IN THE CIRCLE.  IN THE FINALS, TORI HEAPHY PITCHED A 2-0 SHUTOUT GEM AGAINST THE VALLEY FUSION.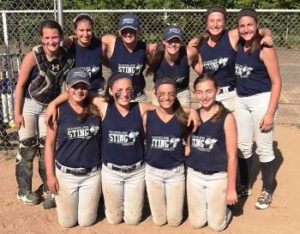 USSSA "BRING THE HEAT" CHAMPIONS
---
14U BLUE FINISH SECOND AT USSSA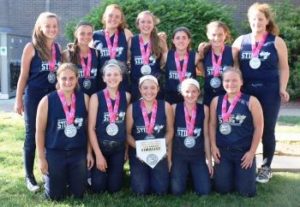 STING14U BLUE

WITH THEIR RUNNER-UP AWARDS.
AFTER A 2-1-0 SATURDAY,

STING 14u

BLUE PREVAILED IN THE QUARTERFINALS, BEAT THE WATERTOWN RAPIDS BY ONE IN THE SEMIFINALS AND LOST IN THE FINALS, FOR SECOND PLACE FINISH.
……….

10U

, 14U WHITE &

16U

ALL PLAYED OUT-OF-STATE IN TEWKSBURY, MA, CRANSTON, RI AND PEMBROKE, NH, RESPECTIVELY.
---
JUNE 3 & 4……….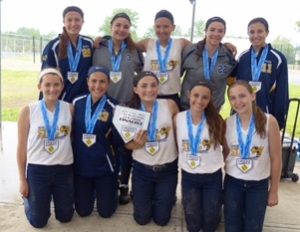 PICTURED ABOVE WITH YET ANOTHER AWARD ARE
STING 14U GOLD

. TOP ROW FROM LEFT ARE SOPHIA ANASTASIO, ABBY CODY, JILL BATICK, KAYLA GOODRICH AND KELLY PRITCHARD.  KNEELING FROM LEFT ARE KAYLA ROSARIO, TORI HEAPHY, JADA MICONI, HANNA SENERCHIA AND ERICA PIERCEY.  (MISSING FROM THE PICTURE IS GRACE HARTMANN.)
14U GOLD USSSA RUNNERS UP AGAIN IN STRONG FIELD
COACH RUSS SENERCHIA'S
STING 14U GOLD

TEAM TOOK THE RUNNER UP AWARD AT USSSA CT TITANS MIKE ARBURR MEMORIAL.  AFTER A 2-1 SATURDAY, 14U GOLD PREVAILED IN VERY EXCITING QUARTERFINAL AND SEMIFINAL GAMES, WINNING EACH BY A SINGLE RUN.  THEY WERE DEFEATED IN THE FINALS BY THE ALWAYS TOUGH SOUTHINGTON LIGHTNING.
10U

FINISHES THIRD WITH A 2-1 SATURDAY, AND A WIN IN THE QUARTERFINALS, BUT LOST IN THE FINALS BY ONE RUN.
---
MAY 27 & 28……….
ALL TEAMS WERE OFF, WITH THE EXCEPTION OF 12U, WHO PLAYED IN WATERTOWN, CT……….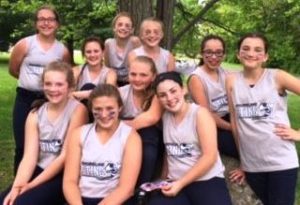 STING 12U: PICTURED AT TOP (LEFT TO RIGHT) HANNAH BURROUGHS, ADRIANNA PIASCIK, CARLY BRASKY, LILLY PERRY AND GENELISSE COSTA.  BOTTOM (LEFT TO RIGHT) SIMONE CAPPON, GIANA MICHAELS, KACEY EDWARDS, AVA SINGLETON AND JULIA SMITH (MISSING ARE KARLY SORRENTINO AND OLIVIA SCHOFIELD.)
---
MAY 20 & 21……….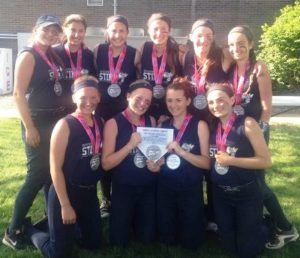 STING 14U GOLD

POSE WITH THEIR SILVER MEDALS FROM USSSA.  STANDING FROM LEFT ARE ABBY CODY, KELLY PRITCHARD, TORI HEAPHY, SOPHIA ANASTASIO, KAYLA GOODRICH AND HANNA SENERCHIA.  KNEELING FROM LEFT ARE JILL BATICK, GRACE HARTMANN, KAYLA ROSARIO AND JADA MICONI.  (MISSING FROM PHOTO IS ERICA PIERCEY.)
14U GOLD RUNNERS UP IN RIVER RUMBLE
AFTER A DISAPPOINTING 1-1-1 SATURDAY IN USSSA RIVER RUMBLE,

STING 14U GOLD

PUT IT TOGETHER IN SUNDAY CHAMPIONSHIP PLAY, DEFEATING THE RI THUNDER AND THE #1 SEED, SEYMOUR TRADITION BLUE, BUT DROPPED THE CHAMPIONSHIP GAME TO THE BREWSTER ROCKETS RED 7-6, ON THE LAST PLAY OF THE GAME.
10U

FINISHES THIRD WITH 4-1 WEEKEND IN CRANSTON, RI.
14U BLUE

FINISHES THIRD IN 13 TEAM FIELD IN CRANSTON, RI
12U

OPENS SEASON AT USSSA, EAST HARTFORD, CT.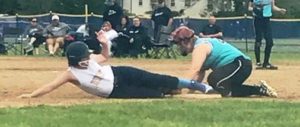 ABOVE, HANNAH BURROWS SLIDES SAFELY INTO THIRD FOR
STING 12U
---
MAY 13 & 14……….

CHAMPIONS IN ENFIELD, CT
14U BLUE DOMINATES FIELD IN TIGER'S SHOOTOUT
STING 14U BLUE

DOMINATED THE FIELD IN A RAIN SHORTENED TIGER'S SHOOTOUT EVENT IN ENFIELD, CT.  THREE WINS AND NO LOSSES IN SATURDAY'S POOL, WITH ONLY FOUR RUNS ALLOWED, NETTED THEM THE CHAMPIONSHIP.  

STING 14U BLUE

DEFEATED THE CT SEAHAWKS, SEYMOUR TRADITION WHITE AND THE CT TIGERS ON SATURDAY FOR THE #1 SEED.  SUNDAY PLAY WAS TOTALLY WASHED OUT BY SATURDAY NIGHTS RAIN, WHICH NETTED THE

14U BLUE

TEAM THE TOURNAMENT CHAMPIONSHIP.  PICTURED BELOW, STANDING FROM LEFT ARE LAUREN ACKERMAN, SOPHIA OUELLET,  MIA DELOUGHERY, TESSA WILLS, GIANNA CASTLEVETRO, ELLA McGLYNN, ALLIE PETONITO AND MAISSA CASO.  IN FRONT (FROM LEFT) ARE SATURDAY'S THREE WINNING PITCHERS, EMA SIGNORE, BELLA HILLS AND ERIN DONLAN.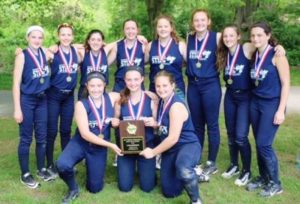 ---
MAY 6 & 7……….
14U GOLD

&

BLUE

BOTH PLACE AT USSSA MAY MAGIC
AFTER A WASHED OUT SATURDAY WAS REPLACED WITH A SUNDAY POOL GAME SCHEDULE,
14U

GOLD

NOTCHED A RUNNERS-UP FINISH IN THE 14U "A" DIVISION OF THE USSSA MAY MAGIC TOURNAMENT IN EAST HARTFORD, CT.  COACH SENERCHIA'S TEAM BEAT THE NEWTOWN THUNDER, CT ELIMINATORS AND CHESHIRE FLAMES RED ON THEIR WAY TO A 3-0 RECORD, ONLY SURRENDERING EIGHT RUNS IN THREE GAMES.  THE RESULT GAVE THEM A SECOND PLACE FINISH.
IN THE "B" – 13U DIVISION,
STING BLUE

LOST TO THE WOLCOTT EAGLES RED AND DEFEATED THE WOLCOTT EAGLES GRAY AND THE POMPERAUG PANTHERS, ONLY SURRENDERING A TOTAL OF FIVE RUNS.  THEY TOOK HOME SECOND PLACE MEDALS, AS WELL.  COACH HILLS AND

14U BLUE

ARE PICTURED BELOW WITH THEIR AWARDS.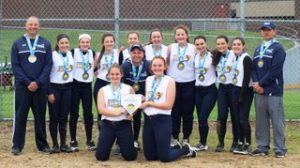 ---
APRIL 29 & 30……….
10U

AT USSSA QUEEN OF DIAMONDS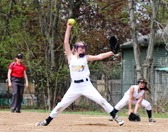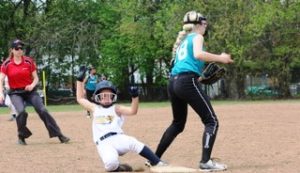 ---
(TOP LEFT) STING 10U PITCHER REECE HEBERT DELIVERS.  (TOP RIGHT) ALEXA FALCIONI SLIDES SAFELY INTO THIRD.
---
APRIL 22 & 23……….
SPRING SEASON OPENS AT USSSA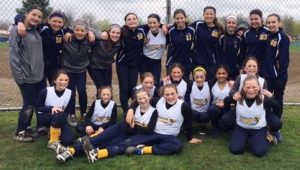 PICTURED ABOVE ARE STING 10U AND 14U GOLD TEAMS AFTER THEIR OPENING SPRING GAMES ON A COLD AND BLUSTERY SATURDAY, APRIL 22 AT USSSA IN EAST HARTFORD, CT.
---
BELLA HILLS & ERIN DONLAN HONORED BY USA SOFTBALL……….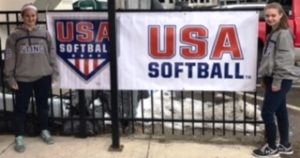 ERIN DONLAN (PICTURED LEFT AND BELLA HILLS (PICTURED RIGHT) WERE RECENTLY NAMED TO ONE OF THE 12U USA SOFTBALL (FORMERLY ASA) ALL-STAR TEAMS.  DONLAN AND HILLS PLAY ON
STING 14U BLUE

, BUT STILL QUALIFY FOR 12U PLAY.  DONLAN IS A CATCHER AND A PITCHER.  HILLS IS A PITCHER AND MIDDLE INFIELDER.
THE PAIR QUALIFIED FOR A USA NORTHEAST TEAM, AFTER A TRYOUT IN DECEMBER 2016 IN UPSTATE NEW YORK.  APPROXIMATELY 180 12U PLAYERS FROM THE NORTHEAST ATTENDED TRYOUTS, BELLA AND ERIN WERE TWO OF 35 PLAYERS SELECTED.
THE GIRLS WILL PLAY IN ALL-STAR GAMES IN OKLAHOMA CITY, OK IN LATE AUGUST 2017.
EVERYONE AT STING IS VERY PROUD OF BELLA AND ERIN.  PLEASE WATCH THIS SITE FOR UPDATES ON THE GIRLS AND USA SOFTBALL ALL-STARS.
---
SUNDAY MORNING, FEB 5……….FASTPITCH NATION MIDNIGHT MADNESS……….
14U GOLD ATTACKS 16U FIELD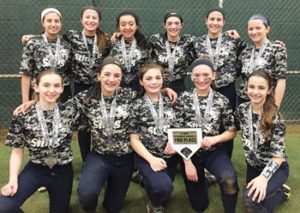 STING 14U GOLD

PLAYED UP IN THE 16U BRACKET IN
FASTPITCH NATIONS MIDNIGHT MADNESS

.  THE TEAM OF ALL 13-YEAR OLDS WON BOTH OF THEIR GAMES IN POOL PLAY, DEFEATING CENTRAL MASS THUNDER 9-2 AND THE 16U MIRAGE 5-2, EARNING A #1 TOURNAMENT SEED.  IN THE CHAMPIONSHIP ROUND, THEY BEAT THE RI THUNDER 5-2, AND LOST IN THE REMATCH WITH THE MIRAGE 7-4 IN THE CHAMPIONSHIP GAME FOR A RUNNERS-UP FINISH.  PICTURED ABOVE ARE: TOP ROW (LEFT TO RIGHT), KELLY PRITCHARD, SOPHIA ANASTASIO, KASSIDY PLANAS, KAYLA GOODRICH, TORI HEAPHY, KAYLA ROSARIO.  BOTTOM (LEFT TO RIGHT) ERICA PIERCEY, ABBY CODY, JADA MICONI, JILL BATICK, HANNA SENERCHIA.  (NOT PICTURED) GRACE HARTMANN.
---
---
SATURDAY MORNING SPORTS SHOW 5:30 – 8:00 AM AND WEEKDAYS 5:30 – 9:00 ON THE "VINNY PENN PROJECT" WELI 960 AM –

"THE COACH GEORGE DEMAIO"

WILL FEATURE

SOFTBALL NEWS AND GUESTS FROM AREA TEAMS. TUNE IN AND STAY IN TOUCH.