Upcoming News and Games

---

SATURDAY & SUNDAY JULY 30 & 31


SHORELINE STINGER IX, GUILFORD, CT

12U BLUE POOL GAMES ON SATURDAY, JULY 30

(WORST RESULT DOES NOT COUNT IN POOL)

9:00 VS CT BOMBERS WHITE AT GUILFORD LAKES

10:40 VS BREWSTER ROCKETS AT GUILFORD LAKES

3:40 VS KP PRIDE AT BITTNER PARK (LOWER)

5:20 VS CT BOMBERS BLACK AT BITTNER PARK (LOWER)

12U GOLD POOL GAMES ON SATURDAY, JULY 30 IN GUILFORD, CT

(PLAYING IN 14U BRACKET)

9:00 VS SEYMOUR TRADITION AT BITTNER PARK (UPPER)

12:20 VS MARLBORO DIAMOND CATS AT BITTNER PARK (UPPER)

2:00 VS CT BOMBERS BLACK AT BITTNER PARK (UPPER)

14U GOLD POOL GAMES ON SATURDAY, JULY 30 IN DURHAM, CT


(WORST RESULT DOES NOT COUNT IN POOL)

9:00 VS CT CT BOMBERS WHITE AT COGINCHAUG HS VARSITY

10:40 VS CT ELIMINATORS FUTURES AT COGINCHAUG HS VARSITY

3:40 VS MIRAGE '01 AT COGINCHAUG HS JV

1:00 VS STRATFORD BREAKERS AT COGINCHAUG HS JV

14U BLUE POOL GAMES ON SATURDAY, JULY 30 IN DURHAM, CT


9:00 VS LUCKY LADIES AT COGINCHAUG HS JV

12:20 VS CT BOMBERS WHITE AT COGINCHAUG HS VARSITY

3:40 VS ELIMINATORS FUTURES AT COGINCHAUG HS


16U POOL GAMES ON SATURDAY, JULY 30 IN GUILFORD, CT


9:00 – VS CT TIGERS AT GUILFORD HS VARSITY

10:40 – VS CT SHOCK AT GUILFORD HS VARSITY

3:40 VS CT ELIMINATORS FUTURES AT GUILFORD HS VARSITY

ED HOBSON – DIRECTOR

65 ORCUTT DRIVE

GUILFORD, CT 06437

(203) 530-3964

hobson01@comcast.net
2017 SHORELINE STING TRYOUTS
TUESDAY, AUGUST 9, 2016 FROM 6:00-8:00 AT BITTNER PARK, 1434 DURHAM ROAD (RT 77), GUILFORD
ALL AGE GROUPS (10U / 12U / 14U / 16U / 18U)
NO APPOINTMENTS NECESSARY.  IF YOU HAVE QUESTIONS OR SCHEDULE CONFLICTS AND NEED TO MAKE ALTERNATE ARRANGEMENTS, CALL ED AT (203) 530-3964, OR EMAIL:  hobson01@comcast.net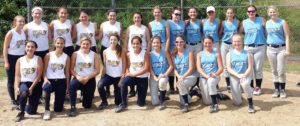 STING VS STING TWO WEEKS IN ROW
FOR THE SECOND STRAIGHT WEEK, BOTH IN USSSA END OF SUMMER SIZZLERIN EAST HARTFORD, CT AND NUTMEG STATE GAMES IN BERLIN, CT, STING 14U GOLD AND STING 14U BLUE MET IN SUNDAY TOURNAMENT ROUNDS.  OUR SENIOR 14U GOLD TEAM PREVAILED IN BOTH.
NORTH BRANFORD LITTLE LEAGUE WINS CT SECTION 1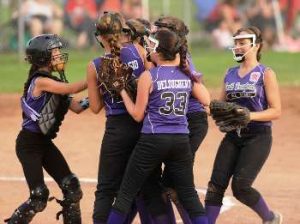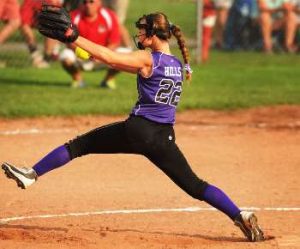 SHORELINE STING

IS PROUD TO REPORT THAT NORTH BRANFORD LITTLE LEAGUE DEFEATED MONROE FOR THE CT SECTION 1 TITLE.  TEN OF THE 12 PLAYERS REPRESENTING NORTH BRANFORD PLAY ON TWO DIFFERENT STING TEAMS AND COMPETED IN THE LITTLE LEAGUE TOURNAMENT DURING THEIR "TRAVEL" HIATUS.
---
STING 16U CRUSHES COMPETITION AT ASA SUMMER CRUSH IN DANBURY, CT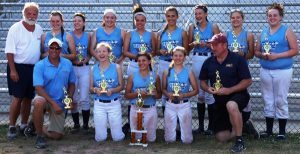 PICTURED ABOVE, BACK ROW STANDING: COACH ED HOBSON, KAT CECERI, JULIE VINCENT, ISABEL SICILIANO, HAELEE McGINTY, ALEX CHAMBERS, EMILY TORRE, SARA KELLY, MAKENNA WHITE.  KNEELING IN FRONT: COACH JUSTIN GLADWIN, LEXY CARUSO, AVA GLADWIN, NIKKI MARSH, COACH DAN MARSH.  (MISSING ARE LIZ RICHARD AND JACEY CLARKE, WHO ARE BOTH INJURED.)

STING 16U

TRAVELED TO DANBURY, CT ON SATURDAY, JUNE 25 FOR THE ASA SUMMER CRUSH AND DOMINATED THE COMPETITION WITH A 3-0 POOL RECORD AND A #1 SEED.  ON SUNDAY, JUNE 26, IN CHAMPIONSHIP PLAY,

STING

DEFEATED "THE INTENSITY" 10-0, BEAT THE "XTREME CHAOS" 15-4 IN THE SEMI-FINALS AND WON THE CHAMPIONSHIP GAME 8-0 VS.  "NEWTOWN THUNDER".
PITCHER ISABEL SICILIANO WAS 4-0 IN THE TOURNAMENT SURRENDERING ONLY ONE EARNED RUN.   ON OFFENSE, NIKKI MARSH WENT 13 FOR 19, SCORING NINE RUNS, AVA GLADWIN WAS 9 FOR 15, PLATING TEN RUNS.  SARA KELLY WAS 9 FOR 15, SCORING SIX TIMES.  SICILIANO FOLLOWED THAT UP WITH FIVE EXTRA BASE HITS INCLUDING TWO "MONSTER" HOME RUNS OVER THE LEFT FIELD FENCE AND NINE RBIS.  EMILY TORRE CARDED FOUR DOUBLES.  PITCHER KAT CECERI WAS 2-0, WINNING BOTH OF HER STARTS.
STING 16U

WILL NEXT PLAY IN THE QUEBEC REBELLES CHALLENGE IN MONTREAL, QC, CANADA.
 

JUNE 19……….LOVE IS IN THE AIR.  "THE BEE" PLAYS CUPID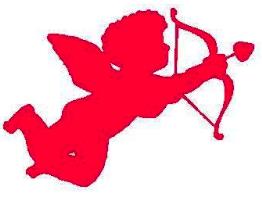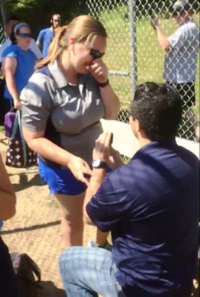 14U BLUE

ASSISTANT COACH, ANNA PIGGOTT GOT THE SURPRISE OF A LIFETIME AFTER SUNDAY PLAY AT "FATHER'S DAY SLUGFEST" IN NORWICH.  AFTER DISTRIBUTING "RING POPS" CANDY TO ALL OF THE PLAYERS, ANNA'S BOYFRIEND RICK WIESE, DROPPED TO ONE KNEE, AND PRESENTED ANNA WITH A REAL ONE.  EVERYONE AT SHORELINE STING WISHES THE COUPLE A LIFE OF JOY AND HAPPINESS.
A FEW 12U & 14U SPOTS REMAIN OPEN FOR LAST MINUTE ENTRY.  CONTACT US OR VISIT www.pony.org FOR REGISTRATION DETAILS.
---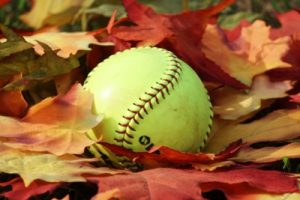 FALL SOFTBALL REGISTRATION NOW OPEN
JUNE 11 & 12
OLDER TEAMS BEGIN 2016, YOUNG ONES WRAPPING UP THEIR SEASONS ON RAINY SATURDAY……….SUCCESSFUL SUNDAY FOR ALL

YOUNG 12U BLUE RUNNERS-UP AT EAGLES KICKOFF IN WOLCOTT
AFTER BACK-TO-BACK-TO-BACK WINS ON SUNDAY, 12U BLUE DROPPED THEIR CHAMPIONSHIP GAME TO THE CT SEAHAWKS AT THE "WOLCOTT EAGLES SUMMER KICKOFF".  PICTURED ABOVE FROM LEFT:  COACH CHRIS HILLS, GIANNA DEPINO, EMA SIGNORE, TESSA WILLS, ERIN DONLAN, ELLA McGLYNN, BELLA HILLS, ALLIE PETONITO AND COACH JIM PETONITO. FRONT KNEELING FROM LEFT: COACH MIKE SIGNORE, LAUREN ACKERMAN, SOPHIE OUELLET, MIA DELOUGHERY AND MAISSA CASO
---
14U GOLD RUNNERS UP IN WATERTOWN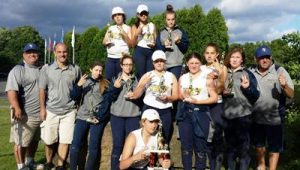 ---
14U GOLD

OPENED THEIR SEASON FINISHING RUNNERS UP IN WATERTOWN, CT.  THEY WON THREE SUNDAY GAMES AND ADVANCED TO THE CHAMPIONSHIP GAME, EVENTUALLY LOSING TO THE CT TITANS BLUE.  PICTURED ABOVE AT TOP FROM LEFT:  BRIANNA RACCIO, AMY RAUCCI AND AVA GALDENZI.  STANDING LEFT TO RIGHT:  COACH BRENT AIKEN, COACH BILL GALDENZI, ABBY SPIVEY, HALLE FERRARA, ASHLEY ANDERSON, MAIREAD AIKEN, SAMANTHA DeANGELO, MOLLY SAWYER, COACH JOHN RAUCCIO.  ANGELINA RAMADA IN FRONT.  NOT PICTURED ARE COACH PETE RAMADA, KAYLEE VELEZ AND KYLIE DeSORBO.
16U OPENS WITH ONE RUN LOSS IN SEMIS AT SOUTHINGTON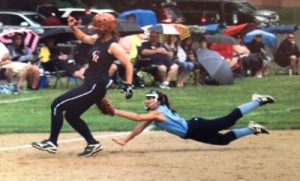 WHY RUN, WHEN YOU CAN FLY?……….
16U BLUE

SHORTSTOP, AVA GLADWIN, CHASES DOWN A CT RAIDER RUNNER AND APPLIES A DIVING TAG FOR THE THIRD OUT IN SATURDAY ACTION IN SOUTHINGTON.
---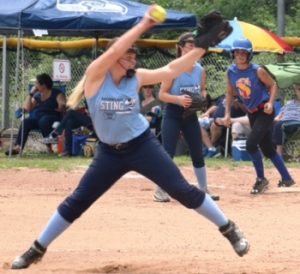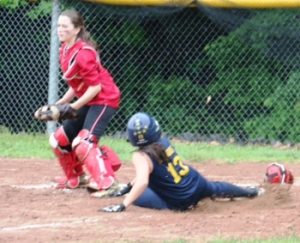 STING 12U BLUE
THIRD IN WOLCOTT
PICTURED ABOVE, ERIN DONLAN (LEFT) PITCHES A NO-HITTER, HELPING TO LEAD

12U BLUE

TO A SATURDAY #3 SEED IN THE CT TITANS MIKE ARBURR MEMORIAL SHOWDOWN IN WOLCOTT, CT.  PICTURED RIGHT, EMA SIGNORE SLIDES SAFELY HOME. 

12U BLUE

LOST ON SUNDAY TO THE CT SEAHAWKS, THE EVENTUAL TOURNAMENT CHAMPION.
---
12U GOLD FINISHES SECOND IN PROVIDENCE
PICTURED BELOW, 12U GOLD ACCEPTS ANOTHER RUNNER-UP FINISH.  THIS TIME IN THE SPRING TUNE UP ON MAY 21 & 22 IN PROVIDENCE, RI.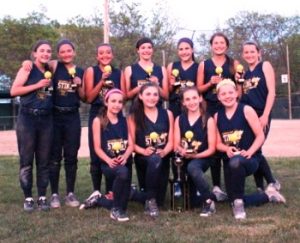 ---
12U GOLD

&

14U BLUE

SUPPORT CANCER RESEARCH IN THE STRIKEOUT CANCER CHARITY TOURNAMENT IN SOUTHINGTON, CT ON MEMORIAL DAY WEEKEND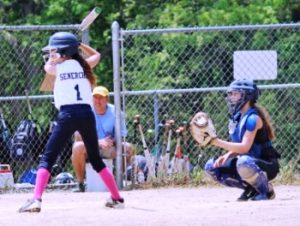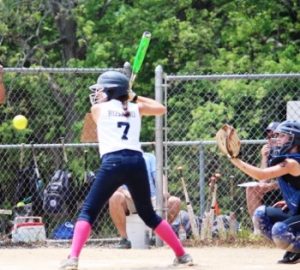 HANNAH SENERCHIA (LEFT), KAYLA ROSARIO (CENTER) AND GRACE HARTMANN (RIGHT) SPORTING THEIR VERY STYLISH PINK SOCKS IN THE STRIKE OUT CANCER CHARITY EVENT IN SOUTHINGTON OVER MEMORIAL DAY WEEKEND.
---
12U TEAMS RAINED OUT IN EAST HARTFORD
RAIN-SOAKED, BUT OUTSTANDING MAY 7, SATURDAYS HIGHLIGHTED THE WEEKEND FOR BOTH 12U TEAMS IN THE TRADITIONAL,
CT ELIMINATORS MOTHER'S DAY CLASSIC, BY USSSA, IN EAST HARTFORD, CT.  CHAMPIONSHIP SUNDAY ON MAY 8, WAS RAINED OUT.

 

STING 12U GOLD

POSTED ANOTHER PERFECT 3-0 SATURDAY, DEFEATING SEYMOUR TRADITION BLUE, LADY WILDCATS PREMIER AND THE EMPIRE STATE HUSKIES AND ONLY SURRENDERING SIX RUNS IN THE EFFORT.  UNFORTUNATELY, THE CT SEAHAWKS BLACK, ALSO 3-0, ONLY GAVE UP FIVE RUNS AND WILL BE NAMED THE CHAMPIONS, BY JUST ONE "RUN AGAINST", IN THE RAIN-SHORTENED EVENT.  STING 12U GOLD WILL BE RUNNERS UP IN THE 16 TEAM FIELD.
STING 12U

BLUE

HAD AN EXCELLENT 2-1 SATURDAY, LOSING ONLY TO THE EVENTUAL CHAMPIONS, CT SEAHAWKS BLACK. 

12U BLUE

BEAT THE CT TIDES AND THE CT HORNETS ON SATURDAY.
---
STING 10U OPENS UP AT USSSA


AT LEFT: LEFTY SOPHIA MEAD DELIVERS.  RIGHT: MIA RUBIROSA HANDLES A POP AT FIRST BASE.
---
---

12U GOLD'S KAYLA ROSARIO BEARS DOWN ON 12U BLUE'S TESSA WILLS AT SECOND BASE IN USSSA SPRING MADNESS SEMI-FINALS
---
 CONTACT TEAM IMAGE FOR 2016 UNIFORM NEEDS AND STING LOGO GEAR.
TEAM IMAGE (203) 723-0286. teamimagellc@aol.com
---
ANNOUNCEMENTS
SATURDAY MORNING SPORTS SHOW 5:30 – 8:00 AM AND WEEKDAYS 5:30 – 9:00 ON THE "VINNY PENN PROJECT" WELI 960 AM –"THE COACH GEORGE DEMAIO" WILL FEATURE SOFTBALL NEWS AND GUESTS FROM AREA TEAMS. TUNE IN AND STAY IN TOUCH.